Red Velvet Cake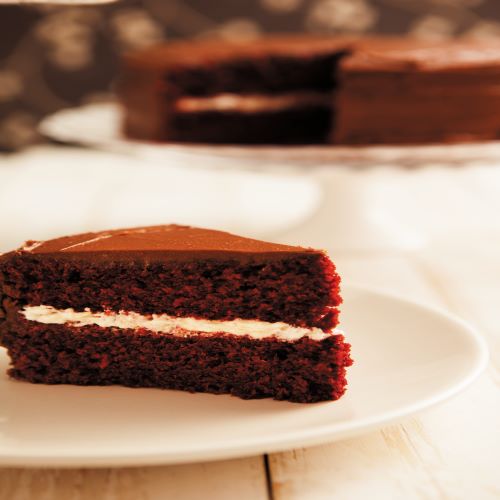 This dramatic cake also makes a wonderful dessert for a glamorous dinner party!
Ingredients:
For the cake
165g (6½oz) butter/ margarine at room temperature, chopped
340g (13½oz) caster sugar
3 large eggs
275g (11oz) Denise's Delicious flour blend - available at https://www.delicious.ie/denises-delicious-flour-blend
1 teaspoon guar gum
½ teaspoon GF baking powder
½ teaspoon bread soda
75g (3oz) cocoa powder
120ml (4floz) warm water
120ml (4floz) milk
3 teaspoons instant coffee powder
½ teaspoon natural red food colouring
To decorate
50g (2oz) dark eating chocolate, chopped
50g (2oz) butter/ margarine, chopped
25g (1oz) icing sugar
300ml (10 floz) cream, whipped, for the filling
Method:
1. Preheat the oven to Gas Mark 5/190°C/375°F. Grease two deep 20cm/8in round cake tins and line the bases with baking parchment.
2. Beat the butter/margarine and sugar in a medium-sized bowl with an electric mixer until light and fluffy and add the eggs one at a time, beating well after each addition.
3. Sieve the flour, gum, baking powder and bread soda. Make sure that there are no lumps in bread soda.
4. Next add the cocoa to the flour mix and sieve all ingredients three times to ensure there are no lumps.
5. Mix the water and milk with the coffee powder and stir to dissolve.
6. Fold the flour and cocoa powder into the butter/ margarine mixture in three or four stages, mixing well between each addition.
7. Add the coffee mixture and mix again.
8. Finally, add the red food colouring and ensure it is blended in completely.
9. Pour into the baking tins and bake in the oven for about 45 minutes. Check that the centre of the cake is firm and that an inserted skewer comes out dry. Turn the cakes onto a wire rack to cool, taking them out of the baking tins and removing the parchment.
To decorate:
1. For the rich chocolate icing, combine the chocolate and butter/margarine in a heatproof bowl over a saucepan of simmering water on a moderate heat. Sieve the icing sugar and add in, stirring until smooth. Remove from the heat once fully melted and combined. Cool at room temperature until spreadable, stirring occasionally while cooling.
2. If the frosting is not thickening enough, sieve in some additional icing sugar and stir in.
3. Sandwich the cold cakes with whipped cream and top with the rich chocolate icing.