Gluten Free Millionaire Shortbread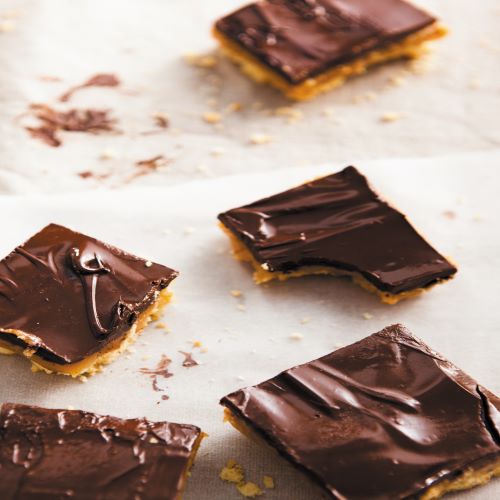 Ingredients
1 quantity of sweet pastry:
Caramel:
1 ½ small cans (595g/21oz in total) of condensed milk
300g (12oz) butter/margarine, at room temperature
150ml (5floz) or 6 tablespoons golden syrup
Topping:
200g (8oz) dark chocolate
Method:
1. Make the pastry according to the instructions. While it is chilling, preheat the oven to Gas Mark 6/200°C/400°F.
2. Grease and line a 25cm x 30cm/10in x 12in Swiss roll tin with baking parchment.Roll out the pastry on a board, floured with a little potato flour.Lifting the rolled out pastry on a rolling pin, line the base of the tray only, not the sides.
3. Bake blind for about 15 minutes until the pastry is golden brown. There is no need to use baking beans when baking gluten-free pastry.
Caramel:
1. Place all the ingredients in a large heavy-based saucepan over a low heat.Stir constantly until the butter/margarine melts.Bring to the boil stirring continuously to prevent from burning at the edges.Boil for 5 minutes on a low heat and keep stirring.
2. Set aside to cool for 10 minutes and pour over the pastry base before the caramel is too cold.Place in the fridge and leave for 2–3 hours until the caramel is firm.
Chocolate:
1. Put a saucepan of water on a medium heat and placea bowl over this to make a bain marie.Break the chocolate into the bowl and melt stirringoccasionally.
2. Break the chocolate into the bowl and melt stirringoccasionally. While the chocolate is still hot, pour it over thecaramel and allow it to spread itself out to the edges. Chill in the fridge until the chocolate has set. Use ahot knife to cut into twelve squares without breakingthe chocolate.
This recipe holds really well in an airtight container for a week or so butit will be absolutely demolished before the week is over.