Luscious lime meringue tarts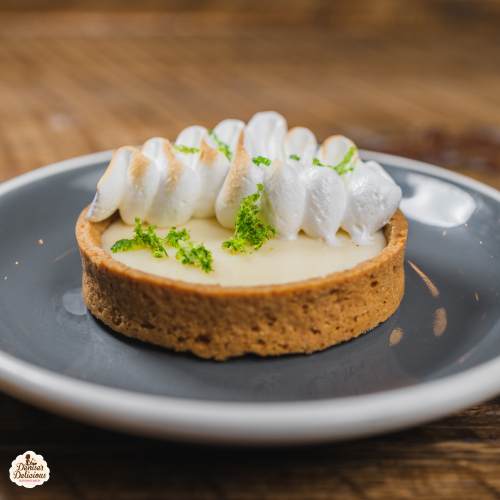 To prevent curdling, always remember the golden rule: add hot liquids to cold – never cold to hot!
Ingredients:
Meringue:
3 large egg whites
½ teaspoon white vinegar
¼ teaspoon vanilla extract
¼ teaspoon salt
125g (5oz) caster sugar
Lime custard:
75g (3oz) potato flour
150g (6oz) caster sugar
18ml/6floz cold water
3 large egg yolks
5 tablespoons lime juice
1 tablespoon grated lime zest
2 tablespoons butter/ margarine
To decorate:
200ml whipped cream
1 teaspoon runny honey
Method:
1. Preheat the oven to Gas Mark 4/180°C/350°F. Line a baking tray with baking parchment.
2. Beat the egg whites, vinegar, vanilla extract and salt in a large bowl on medium speed until soft peaks form.
3. Gradually beat in the sugar, one tablespoon at a time, on high speed until stiff glossy peaks form and the sugar is blended.
4. Spoon the egg white mixture into eight mounds on the prepared tray. Flatten into cup shapes with a spoon.
5. Bake in the preheated oven for 35 minutes. Then turn off the oven but leave the door closed to allow the shells to dry out in oven for at least 1 hour. Remove from the oven and remove the shells from the baking parchment.
Custard:
1. In a small saucepan, combine the potato flour and sugar. Stir in the water until smooth. Whisk over a medium heat until thickened and bubbly. Reduce the heat and stir for an additional 2 minutes. Remove from the heat.
2. Whisk the egg yolks briefly. Stir a small amount of the hot mixture into the egg yolks and whisk quickly. Return this mixture to the pan and mix all together whisking continuously. Bring to a gentle boil and stir for 2 minutes longer. Remove from the heat, then gently stir in the lime juice, zest and butter/margarine. Cool for 10 minutes without stirring.
3. Place a disc of greaseproof paper on top of the custard and set aside to chill in fridge.
4. Just before serving, fill the meringue shells with the lime custard.
5. Combine whipped cream with the honey and mix well. Top each custard tart with a dollop of cream and serve.