Lemon & lime bars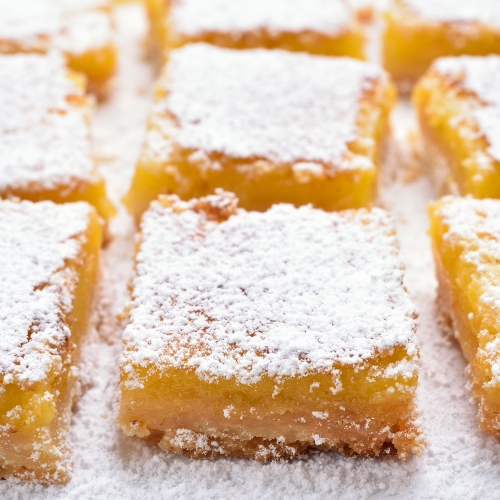 A zesty, citrus pick-me-up with a mid-morning cup of tea!
Makes 12–15
Ingredients:
250g (10oz) Denise's Delicious flour blend (available here)
½ teaspoon xanthan gum
½ teaspoon GF baking powder
200g (8oz) butter/margarine, softened and cubed
100g (4oz) caster sugar
Zest of 1 large lemon, finely grated
Topping:
2 large eggs
125g (5oz) caster sugar
Juice of ½ lemon
Juice of 1 lime
25g (1oz) tapioca flour
½ teaspoon xanthan gum Icing sugar to dust
Method:
1. Preheat the oven to Gas Mark 5/190°C/375°F. Grease and line a 25cm x 30cm/10 x 12in Swiss roll tin with baking parchment, running the parchment up the sides of the tin.
2. Sieve the flour, gum and baking powder into a large bowl.
3. Add the butter/margarine, sugar and lemon zest and combine using an electric mixer on a medium speed.
4. Roll out the biscuit base using a little potato flour and press into the base of the tin.
5. Prick all over with a fork.
6. Bake in the oven for 10–12 minutes until golden brown.
Topping:
1. In a medium bowl, whisk the eggs and sugar thoroughly together. Add the lemon juice and lime juice and mix.
2. Separately, sieve the tapioca flour and xanthan gum. Add the flour to the egg mixture and beat well.
3. Pass the mixture through a fine sieve into a jug. Pour the mix over the biscuit base.
4. Carefully place in the centre of the preheated oven and cook for about 15 minutes or until just set – the topping should have a slight wobble!
5. Once cooked, remove from the oven and allow to cool completely in the tin. Once cooled, cut into bars and dust with icing sugar to serve.