Jack Frost Muffins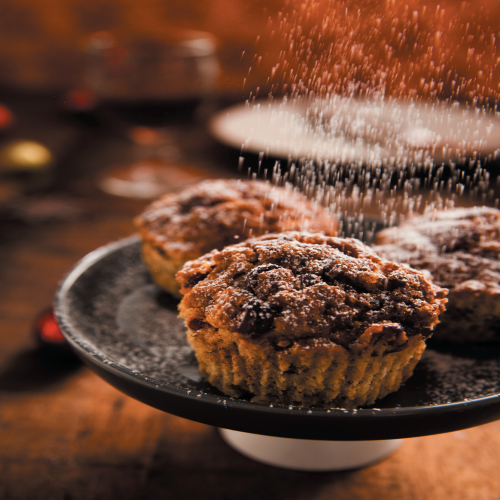 I love to have these muffins on Christmas Eve morning – I feel Christmas has arrived properly then. I mix all the dry ingredients the night before and have my other ingredients ready in the fridge. It just takes three minutes in the morning to put it all together. Make sure to play some Christmas music for yourself while you enjoy these treats!
Ingredients:
200g (8oz) Denise's Delicious flour blend (available here)
½ teaspoon GF baking powder
½ teaspoon bread soda
1 teaspoon mixed spice
75g (3oz) demerara sugar
90ml (3floz) orange juice
60ml (2floz) milk
1 medium egg
50g (2oz) butter/margarine, melted
125g (5oz) dried cranberries
For the topping:
2 teaspoons demerara sugar
½ teaspoon mixed spice
Method:
1. Preheat the oven to Gas Mark 5/190°C/375°F. Line a twelve-hole muffin tin with paper cases.
2. In a large bowl, sieve the flour, baking powder, bread soda and spice together. Add the sugar and mix together.
3. In another bowl, pour in the orange juice, add the milk and egg, and beat until combined. Don't worry if it curdles a bit. Add the melted margarine and beat again.
4. Remembering that a lumpy batter makes light muffins, start mixing very lightly by hand, adding the wet ingredients to the dry. Do not beat or the muffins will be leathery and small. Gently add the cranberries and stir in lightly.
5. Spoon into the muffin cases.
6. For the topping, mix the sugar and mixed spice and sprinkle on top before placing in the centre of the oven.
7. Bake for 15–20 minutes until golden brown and a skewer inserted into the centre comes out dry.
8. Remove from the oven and remove from baking tin after 2–3 minutes. Allow to cool on a wire rack. When completely cool, store in an airtight container