Fresh yogurt cake with lime zest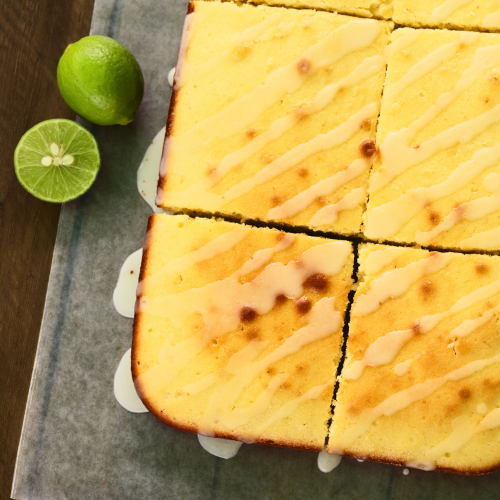 I think that lime is very much an unsung hero, so I like to incorporate it into my recipes whenever I can.
Ingredients:
For the cake:
225g (9oz) Denise's Delicious flour blend (available here)
1 teaspoon GF baking powder
150ml (5floz) natural yogurt
135ml (4½floz) sunflower oil, plus extra for greasing
225g (9oz) caster sugar
2 large eggs
Zest of 2 large limes, finely grated
For the syrup:
Juice of 2 large limes
65g (2½oz) caster sugar
2 tablespoons honey
25g (1oz) toasted flaked almonds, to decorate
Method:
1. Preheat the oven to Gas Mark 5/190˚C/375˚F. Grease a 20cm/8in round cake tin with a removable base and line the base with baking parchment.
2. Mix the flour and baking powder and set aside.
3. Put the yogurt, oil, 225g caster sugar, flour and baking powder mix, eggs and lime zest in a large bowl and beat together until smooth.
4. Turn the mixture into the prepared cake tin and bake in the centre shelf of the preheated oven for about 1 hour, until golden brown and a skewer inserted in the centre comes out clean.
5. Meanwhile, put the lime juice and 65g caster sugar into a saucepan and heat gently until the sugar has dissolved. Bring to the boil, then simmer for 2–3 minutes. Stir in the honey.
6. When the cake is baked, carefully remove from the tin and place on a wire cooling rack set over a baking sheet. Prick the top of the cake all over with a fine skewer. If necessary, reheat the syrup, then pour the hot syrup over the warm cake and set aside to cool.
7. Scatter the flaked almonds on the top to decorate before serving. Serve warm with a scoop of vanilla ice cream.