American-style frosted Chocolate Cake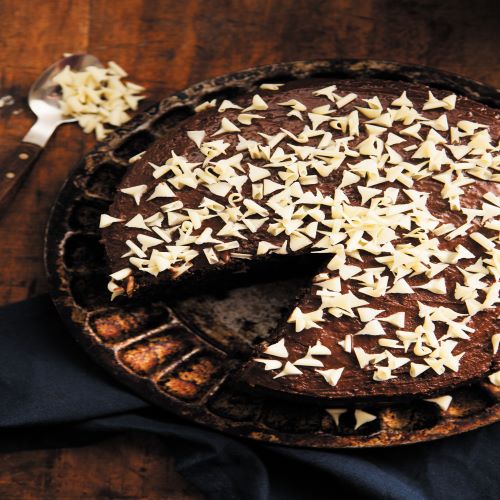 This is a simple chocolate cake that whips up easily and feels very American! It works well as cupcakes too and the icing can be piped on to finish.
Ingredients:
For the cake:
5g (1oz) cocoa powder
1 teaspoon bread soda
510ml (17floz) water
600g (1lb 7oz) caster sugar
225g (9oz) butter/margarine at room temperature, chopped
450g (1lb) Denise's Delicious flour blend - available at https://www.delicious.ie/denises-delicious-flour-blend
1 teaspoon GF baking powder
1 teaspoon xanthan gum
4 large eggs, beaten lightly
For the Fudge frosting:
75g (3oz) butter/margarine
90ml (3floz) water
100g (4oz) caster sugar
200g (8oz) icing sugar
25g (1oz) cocoa powder
To decorate:
White chocolate curls
Method
1. Preheat the oven to Gas Mark 5/190°C/375°F. Grease a round 27cm/10½in diameter baking tin and line the base with baking parchment.
2. Sieve the cocoa powder and bread soda together and put aside.
3. Combine the water, sugar and butter/margarine in a medium saucepan, then stir over a low heat, without boiling, until the sugar dissolves. Stir in the cocoa and bread soda.
4. Bring to the boil, then reduce the heat and allow to simmer, uncovered, for 5 minutes.
5.Transfer the mixture to a large bowl and allow to cool to room temperature.
6. Sieve the flour, baking powder and gum in a separate bowl.
7. Whisk the eggs and add the flour mixture gradually, whisking between additions. Add this to the cocoa mixture and whisk until smooth.
8. Pour into the baking tin and bake in the oven for about 50 minutes. Gently insert a skewer into the centre of the cake to check it is fully baked. If baking as cupcakes they will require just 15–20 minutes to bake.
9. Allow the cake to stand in the tin for 10 minutes before turning out onto a wire rack. Turn the cake top-side-up to cool.
To decorate:
1. To make the frosting, combine the butter/margarine, water and caster sugar in a small saucepan and stir over a low heat, without boiling, until the butter/ margarine melts.
2. Sieve the icing sugar and cocoa powder into a medium bowl then gradually stir in the hot butter/margarine mixture.
3. Cover and refrigerate for about 20 minutes until the frosting thickens.
4. Remove the frosting from the fridge and whip with a wooden spoon until spreadable.
5. Using a palette knife, spread it over the cake and sprinkle with white chocolate curls.