Very Berry Muffins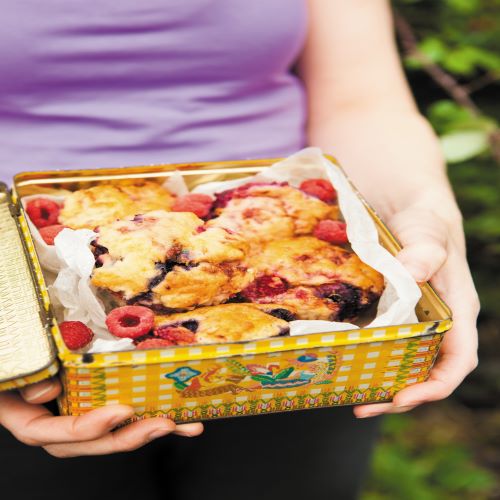 The secret to a good muffin is not to overbeat them. Never, ever, mix with an electric beater. Gently fold in the mixture by hand. This mix is loaded with fruit for a fabulous burst of flavour! This recipe makes 8 generous muffins or 12 smaller ones.
Makes 12
Ingredients:
200g (8oz) Denise's Delicious flour blend
½ teaspoon bread soda
2 teaspoons GF baking powder
1 teaspoon guar gum
75g (3oz) caster sugar
Pinch of salt
210ml (7floz) buttermilk
1 large egg
75g (3oz) butter/margarine, melted and cooled
175g (7oz) soft fruits: raspberry, strawberries and blueberries
Method:
1. Preheat the oven to Gas Mark 5/190°C/375°F. Line a twelve-hole muffin tin with muffin cases.
2. Combine the flour, bread soda, baking powder, gum and sugar in a bowl and mix well.
3. In a measuring jug, beat together the buttermilk, egg and melted butter/margarine.
4. Using a wooden spoon, stir the buttermilk mixture into the flour mixture and mix gently to combine. Do not beat the mixture.
5. Fold in the berries, stirring gently.
6. Spoon into the muffin cases and bake for 20 minutes, by which time the muffins should be risen and golden and firm on top. If a skewer is inserted into the centre, it should come out dry.
7. Remove from the oven and remove from the baking tin after 2–3 minutes. Allow to cool on a wire rack. When completely cool, store in an airtight container.