Traditional Bakewell Tray Bake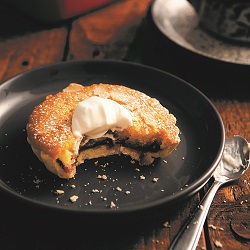 This is an easy recipe to put together. I find it handy to make pastry in large amounts and then divide it into 450g (1lb) balls and pop into the freezer in plastic bags until I need it. The pastry freezes really well and will thaw out overnight. The recipe here is for a tray bake, but alternatively, you can grease eight individual loose-bottomed tartlet tins to make individual tarts, as shown in the photo.
Makes 8
Ingredients:
1 quantity of sweet pastry
Raspberry or strawberry jam
Almond topping
200g (8oz) butter/margarine
4 large eggs
175g (7oz) caster sugar
50g (2oz) tapioca flour
150g (6oz) ground almonds
50g (2oz) flaked almonds
Method:
1. Prepare the pastry. While it is chilling, preheat the oven to Gas Mark 4/180°C/350°F. Grease and line a 25cm x 30cm/10in x 12in baking tray with baking parchment. Roll out the pastry on a board, floured with a little potato flour.
2. Lifting the rolled out pastry on a rolling pin, line the baking tray with it, tucking in gently and trimming any excess with a sharp knife. If using individual tartlets, cut the pastry to fit the base of the tins and to line the sides. Press well into the sides of the tins.
3. Spread the jam generously on the unbaked pastry.
Almond topping
1. Melt the butter/margarine.
2. Beat the eggs well with a hand-held whisk, then add the sugar and whisk to combine. In another bowl, mix the flour and ground almonds until combined.
3. Stir the almond mix into the eggs and beat with a wooden spoon to combine, then add the melted butter/margarine and beat well.
4. Pour the almond mixture over the pastry and jam using a spatula to guide the mixture into the corners. If baking individual tartlets, divide the mixture between the eight tins.
5. Sprinkle with flaked almonds and bake in the centre of the preheated oven for 40–50 minutes until golden brown and a skewer inserted comes out dry. The individual tartlets will cook much more quickly, in 10–15 minutes.
6. Remove from the oven and allow to cool fully in the tin before cutting into squares and serving.