Strawberry tart with crème pâtissière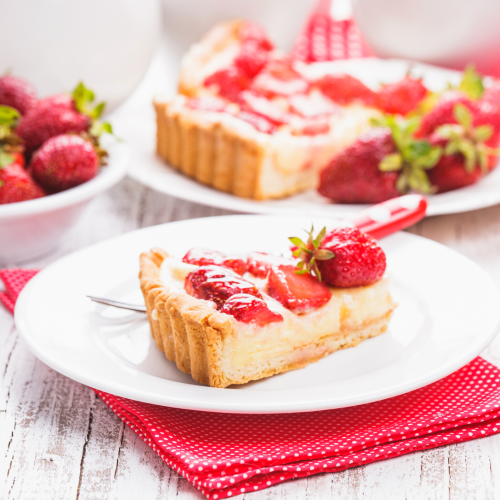 This is a real summertime treat!
Ingredients:
1 quantity of sweet pastry (mix available here)
6 large egg yolks
115g (4½oz) caster sugar
40g (1½oz) corn flour
510ml (17floz) milk
1 vanilla pod, split
Icing sugar, to dust
1 large punnet of strawberries
1½–2 tablespoons apricot jam
Method:
1. Make the pastry according to the instructions. While it is chilling, preheat the oven to Gas Mark 6/200°C/400°F.
2. Roll out the pastry on a board, floured with a little potato flour. Grease a 20cm/8in pie plate very well, making sure all sides are well greased.
3. Lifting the rolled out pastry on a rolling pin, line the pie plate with it, tucking in gently and trimming any excess with a sharp knife.
4. Bake blind for about 15 minutes until the pastry is golden brown. There is no need to use baking beans when baking gluten-free pastry.
5. To make the crème pâtissière, place the egg yolks and about one-third of the sugar in a bowl and whisk until pale and forming a light ribbon when whisk is lifted out of the mixture.
6. Sieve the corn flour and mix well into the egg and sugar mixture.
7. Combine the milk, the remaining sugar and the split vanilla pod in a saucepan and bring to the boil. As soon as the mixture bubbles, remove the vanilla pod and, with a sharp knife, scrape out the vanilla seeds and add to the milk mixture, then pour about one-third onto the egg mixture, whisking vigorously all the time.
8. Pour the mixture back into the pan with the rest of the milk and cook over a gentle heat, whisking continuously. Boil for 2 minutes, then pour the custard into a bowl.
9. Dust lightly with icing sugar to prevent a skin from forming as the custard cools and place a piece of greaseproof paper on top of the custard. If a skin forms, it will adhere to the greaseproof paper and be easy to remove.
10. Pour the cooled custard into the tart base and smooth out evenly.
11. Wash and dry the strawberries and halve them, cutting off the stems.
12. Lay out the strawberries on top of the custard, arranging them as nicely as possible, trying not to leave any gaps.
13. Place the apricot jam in a microwaveable dish and microwave on full power for 10 seconds until warmed.
14. Beat the jam with a spoon.
15. Using a pastry brush, lightly brush the strawberries with the apricot jam to glaze and give a shiny finish.