Sticky Toffee Pudding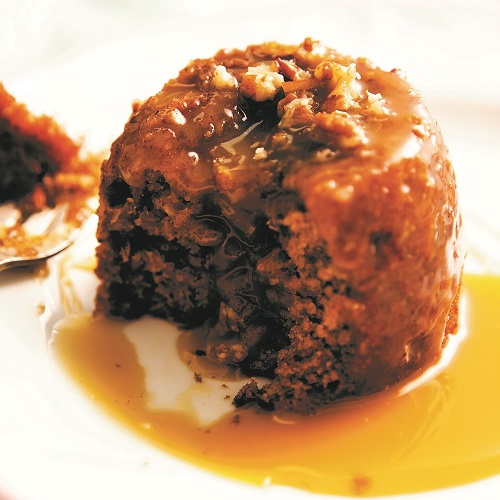 Sticky toffee pudding is comfort food, have no doubt about it! If we're out to dinner and it's on the menu, I make sure my husband Derek orders it for himself, but with two spoons of course…
Makes 10
Ingredients:
300g (12oz) stoned dates, chopped
240ml (8floz) boiling water
1 teaspoon vanilla extract
2 teaspoons coffee essence
11⁄2 teaspoons bread soda, sieved
150g (6oz) butter/margarine
250g (10oz) caster sugar
4 large eggs, beaten
300g (12oz) Denise's Delicious flour blend (p. 28)
1⁄2 teaspoon GF baking powder
1⁄2 teaspoon xanthan gum
Extra margarine and potato
flour for greasing dariole moulds
Sauce:
75g (3oz) butter/margarine
50g (2oz) brown sugar
2 tablespoons cream
50g (2oz) pecan nuts, chopped
Method:
1. Preheat the oven to Gas Mark 4/180°C/350°F. 2. Grease and flour ten 71⁄2cm/3in diameter dariole moulds, shaking out any excess flour.
3. Place the chopped dates in the boiling water. Add the vanilla extract, coffee essence and bread soda, stir and set aside.
4. Cream the butter/margarine and sugar with an electric beater until fluffy.
5. Beat in the eggs one at a time.
6. Sieve the flour, baking powder and gum and fold into the butter mixture. Then fold the date mixture into the cake mixture.
7. Half fill the moulds with the pudding mixture. Place on a baking tray and bake for 25 minutes. They will have risen and be spongy to the touch and an inserted skewer will come out dry.
Sauce:
1. Just before serving, prepare the sauce.
2. Melt the butter/margarine over a gentle heat, and stir in the sugar until dissolved.
3. Stir in the cream, mix well and add the pecan nuts.
4. To serve, turn out the puddings onto serving plates and spoon sauce over them.
5. Serve warm.