Softly Spiced Gingerbread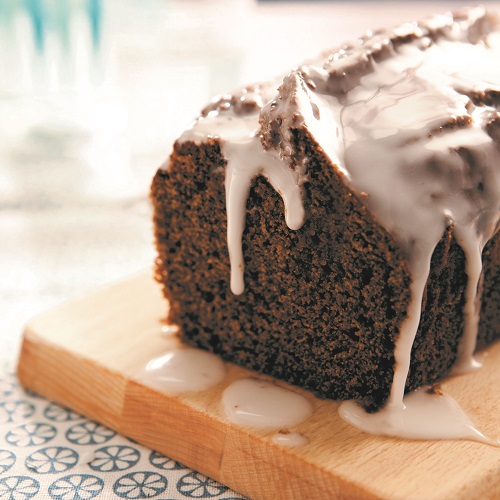 Thanks to Connie, our bakery manager, for sharing her mum's original gingerbread recipe with me. Here's my gluten-free version of it.
Ingredients:
300g (12oz) Denise's Delicious flour blend
½ teaspoon salt
1 teaspoon GF baking powder
1 teaspoon ground cinnamon
1 teaspoon bread soda
1 teaspoon ground ginger
100g (4oz) sugar
2 large eggs
6 tablespoons treacle
100g (4oz) melted butter/margarine
250ml (8½floz) buttermilk or sour milk
Method:
1. Preheat the oven to Gas Mark 5/190°C/375°F. Grease a 2lb/900g loaf tin and line with a baking liner or else line the tin with baking parchment.
2. Sieve the flour, salt, baking powder, cinnamon and bread soda into a medium-sized bowl.
3. Then add the ginger and the sugar. Mix well with a wooden spoon and set aside.
4. In a large bowl, beat the eggs and add the treacle, melted butter/margarine and buttermilk. Beat well with a whisk.
5. Add the flour ingredients to the wet ingredients in four stages, beating well between each addition. The mix should be smooth, without any lumps. If there are lumps, set aside for 1 minute and then whisk vigorously.
6. Fill the baking tin and bake in the preheated oven on the centre shelf for approximately 40 minutes or until an inserted skewer comes out dry.