Savoury Loaf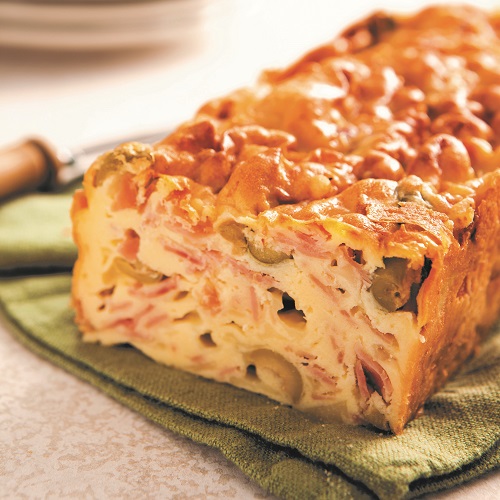 This savoury loaf is a recipe from a lovely lady in Brittany. It is a wonderful accompaniment to a glass of chilled white wine with friends.
Ingredients:
125g (5oz) Denise's Delicious flour blend
1 teaspoon GF baking powder
½ teaspoon guar gum
60ml (2floz) vegetable oil
120ml (4floz) milk
4 large eggs
125g (5oz) olives, chopped and stoned
225g (9oz) ham, chopped
125g (5oz) Gruyère, grated
50g (2oz) chopped walnuts
Method:
1. Preheat the oven to Gas Mark 4/180°C/350°F. Line a 900g/2lb loaf tin with a baking liner or grease and cut baking parchment to fit.
2. Mix the flour, baking powder and gum until fully combined.
3. Separately, mix the oil, milk and eggs. Make a well in the centre of the dry ingredients and pour in the egg mixture and whisk well.
4. Next, add the olives, ham, cheese and walnuts and stir into the mixture. If the mixture seems very stiff, add a little extra milk and beat in.
5. Pour the mixture into the loaf tin and bake in the centre of the preheated oven for 45–50 minutes. Test with a skewer and it should come out dry.
6. When baked, gently turn out of the tin and cool on a wire rack.
7. To serve, slice thinly and cut each slice in half. Serve accompanied by a crisp white wine.