Pear & ginger tarte tatin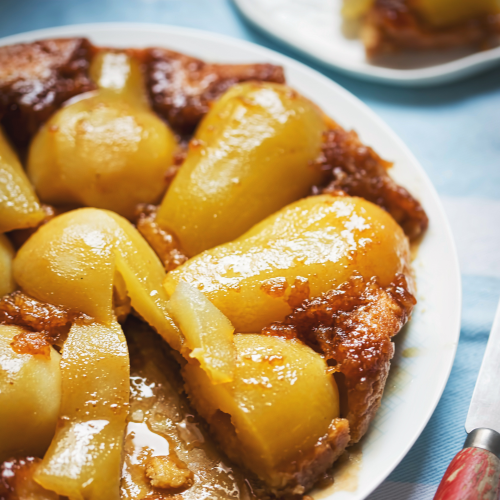 Apple tarte tatin is a traditional French recipe that works really nicely with pears. Gluten-free pastry has traditionally been horrendously difficult but I promise that this recipe will work for you!
Ingredients:
1 quantity of sweet pastry (available here)
Approx. 12 ripe pears
125g (5oz) butter/margarine
200g (8oz) caster sugar
¾ teaspoon ground ginger
Whipped cream to serve
Method:
1. Heat the oven to Gas Mark 6/200°C/400°F. Grease a 20cm/8in pie plate very well, making sure all the sides are well covered.
2. Make the pastry according to the instructions on page 30.
3, While the pastry is chilling, peel, core and halve the pears.
4. Slice the butter/margarine and line the bottom of a cast iron pan (with an ovenproof handle) with it and put over a gentle heat.
5. Sprinkle the sugar and ginger on top.
6. Pack the pears snugly on the pan, as they shrink when cooked. Lie them with the cut side facing up as this makes the tart look better when it is turned out.
7. As the butter/margarine melts, it will caramelise with the sugar. It will begin to bubble between the pears and turn honey-coloured in approximately 15–20 minutes. Keep the heat low as it can burn easily.
8. Shift the pan to the side of the ring if the pears are cooking too much in the centre. Take off the heat, but remember, as this is a cast iron pan, it will continue to cook. If it has become too hot and is close to boiling, lower the base of the pan into cool water.
9. As the mixture cools, the caramel will set and the pears will shrink.
10. Roll out the pastry on a board floured with a little potato flour and put on top of the pears, leaving the pastry slightly larger than the pan and tucking the extra pastry in around the edge of the pan.
11. Place into the oven and then bake for approximately 20 minutes, until the pastry is golden brown.
12. Remove from the oven and allow to cool fully before turning out.
13. Turning this out can be tricky so it is best to heat the bottom of the pan very slightly to loosen the caramel, before turning it. This will help to hold the shape of the pie.
14. Place a serving plate on top of the pan and then invert it, placing the plate on a counter top with the pan on top. The tart should fall out onto the plate. The pastry will be on the base of the plate and the caramelised pears on top.
15. Serve with whipped cream.