Peach Crumble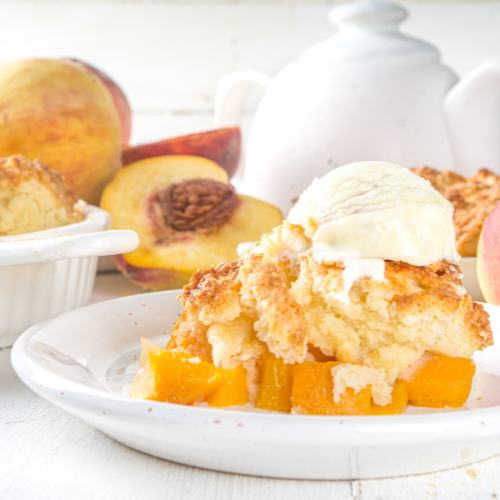 This is a really lovely variation on traditional apple crumble. Using peaches adds a summery note to a crumble that is traditionally autumnal. Chestnut flour marries well with this recipe adding a subtle hint of chestnut to bring out the flavour of the peaches.
Ingredients:
580g (1lb 5oz) fresh peaches
100g (4oz) brown sugar
1 teaspoon allspice
60ml (2floz) water
Grated zest of 1 lemon
Margarine for greasing
50g (2oz) potato flour
50g (2oz) corn flour
50g (2oz) chestnut flour
75g (3oz) butter/margarine
75g (3oz) caster sugar
Method:
1. Preheat the oven to Gas Mark 5/190°C/375°F and bring a pot of water to the boil.
2. Gently score the peaches and then submerge them in the pot of boiled water. This will cause the skin to wrinkle. Allow them to sit in the water for approximately 1 minute, then remove and peel with a sharp knife. The peaches will be hot, so be careful!
3. Stone and slice the peaches. Simmer them with the brown sugar, allspice, water and lemon zest in a covered pan until soft.
4. Fill a greased 1 litre pie dish with the fruit.
5. Sieve the flours together and then rub the butter/ margarine into the flour until it resembles fine breadcrumbs.
6. Add the caster sugar and stir well, sprinkle the mixture over the peaches in the pie dish.
7. Bake in the oven for 30–40 minutes until the crumble is golden brown.
8. When baked, serve warm with a scoop of vanilla ice cream.