Orange-infused Chocolate Truffles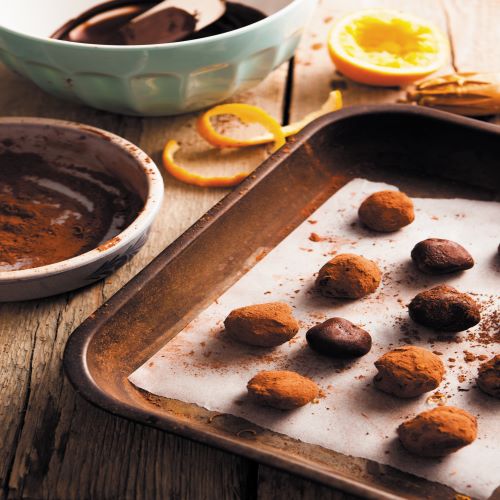 Truffles are indulgent and a wonderful way to round off a dinner party. These are handmade, so don't worry if they aren't perfectly shaped!
Ingredients:
210ml (7floz) double cream
300g (12oz) plain chocolate, finely chopped
To coat:
225g (9oz) plain or white chocolate, chopped
3–4 drops natural orange essence
50g (2oz) finest quality cocoa powder
Method:
1. Line two baking trays with baking parchment.
2. Put the cream into a saucepan and heat gently until boiling. Remove from the heat and allow to cool for several minutes.
3. Put the chopped chocolate into a heatproof bowl, then pour the cream over the chocolate. Set aside for a couple of minutes.
4. Stir gently until just smooth. Do not over-mix at this stage. Allow to cool in the fridge for 10–15 minutes.
5. When the mixture is cold but not set, beat vigorously with a wooden spoon, or on speed one of an electric mixer, until very thick and much lighter in colour and texture.
6. The mixture will be quite stiff now. Roll some of the mixture in your hands to form a round, marble-sized ball, then place it on a baking tray. Repeat until all the mixture is used. Place in the fridge for several hours.
7. When ready to finish the truffles, put the 225g chopped chocolate and orange essence into a heatproof bowl and set over a saucepan of steaming but not boiling water. The water should not touch the base of the bowl or start to boil. When the chocolate is melted remove the bowl from the heat.
8. Using two forks, briefly dip each truffle into the chocolate until fully coated.
9. Return the coated truffles to the baking trays and leave until the coating chocolate is almost set.
10. While the coating chocolate is still slightly soft, roll the truffles in cocoa powder. Store in the fridge until ready to serve.