Mince pies with Homemade Mincemeat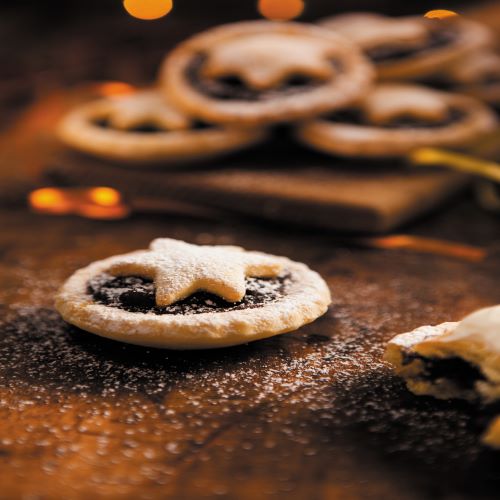 These are the most popular pies we bake and we make hundreds of thousands. It's nice to say that you have baked them yourself; however, if it's all a bit daunting, use our pastry mix and mincemeat to make it a bit easier on yourself!
Mincemeat:
200g (8oz) butter/margarine
450g (1lb) cooking apples, peeled, cored and finely chopped
350g (14oz) raisins
225g (9oz) sultanas
225g (9oz) currants
100g (4oz) mixed peel, finely chopped
100g (4oz) natural glacé cherries
Grated zest and juice of 2 oranges
Grated zest and juice of 2 lemons
4 teaspoons ground mixed spice
½ teaspoon ground nutmeg
½ teaspoon allspice
350g (14oz) soft dark brown sugar
50g (2oz) whole almonds, cut into slivers
6 tablespoons brandy
For the mince pies:
1 quantity of sweet pastry (p. 30)
1 beaten egg
Icing sugar to decorate
Method:
For the Mincemeat:
1. Prepare this well in advance of making mince pies. The mincemeat will hold for six months.
2. Preheat the oven to Gas Mark 6/200°C/400°F.
3. Wash 6 x 1lb (450g) jam jars in warm soapy water. Then place in a preheated oven for 1 hour to dry and sterilise them.
4. Melt the butter/margarine. Mix the apple, dried fruit, zest, spices, brown sugar and almonds together in a large bowl, very thoroughly.
5. Add the butter/margarine, fruit juices and brandy and stir well.
6. Cover with a cloth and leave for 12 hours to mature.
7. Spoon into the clean dry jars with screw top lids.
8. This will mature in the jar and store for 6 months.
For the Mince pies:
1. Make the pastry according to the instructions.
2. Preheat the oven to Gas Mark 6/200°C/400°F. Line a twelve-hole queen cake tin with paper cases.
3. Roll out the pastry on a board, floured with a little potato flour. Use a small scone cutter to cut circles and fit to the baking cases. Cut out a matching lid for each pie. 208
4. Fill the pastry cups with the mincemeat (not too much – only to the level of the edges of the pastry).
5. Now dampen the edges of the smaller rounds of the pastry with water and press them lightly into position to form lids, sealing the edges. Brush each one with beaten egg and make about three snips into the top with a pair of scissors to make air holes. Alternatively, using a small star-shaped cookie cutter, cut out a festive-shaped top for the mince pies and use the star instead of a lid, as I have done in the photo.
6. Bake in the centre of the oven for 25–30 minutes until golden brown. Then remove gently from the trays and paper cases and cool them on a wire tray and sprinkle with sieved icing sugar. Store the cooled mince pies in an airtight tin and warm them slightly before serving.