Lemon Curd Tartlets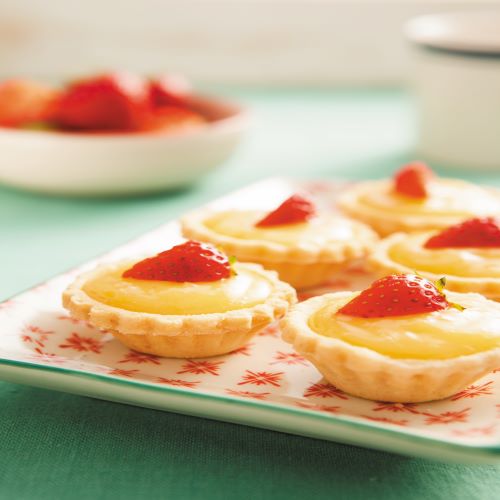 The tartness of the lemon cuts through the richness of the pastry here. One tartlet is plenty in one sitting! Alternatively, you can make bite-sized tartlets, as I have shown in the photo here, but one of those will not be enough, I guarantee!
Ingredients:
1 quantity of sweet pastry
4 large eggs
200g (8oz) butter/ margarine, at room temperature
300g (12oz) caster sugar
Zest and juice of 2 lemons
To serve:
Fresh strawberries
Method:
1. Prepare the pastry according to the instructions. While it is chilling, preheat the oven to Gas Mark 6/200°C/400°F. Prepare eight fluted 7½cm/3in tartlet dishes by greasing well. Alternatively you can use a larger quantity of little 'petit-four' style tartlet moulds.
2. Roll out the pastry on a board, floured with a little potato flour.
3. Cut the pastry with a scone cutter to fit the tins, tucking the pastry in gently and trimming any excess with a sharp knife.
4. Bake blind for about 10 minutes (4 minutes if making the mini tartlets) until the pastry is golden brown. There is no need to use baking beans when baking gluten-free pastry.
Lemon curd:
1. Place a pan of water on a medium heat. Sit a bowl into the pan that fits snugly.
2. Break the eggs into the bowl and whisk.
3. Cut the butter/margarine into small cubes and add gradually to the egg mixture, whisking continuously.
4. Add the sugar, lemon juice and lemon zest and continue to whisk until the mixture thickens.*
5. Take the bowl off the heat but continue to whisk until cooled.
6. Place a disc of greaseproof paper on top of the curd until needed.
To serve:
1. Whip the cooled lemon curd lightly to ensure there are no lumps.
2. Spoon this into the pastry tartlets and chill in the fridge for 30 minutes.
3. Before serving, dust with icing sugar and decorate with some fresh strawberries.
*Tip If your curd is not thickening (due to too much fruit juice), then add another egg yolk and beat in well, whilst over the heat.