Granola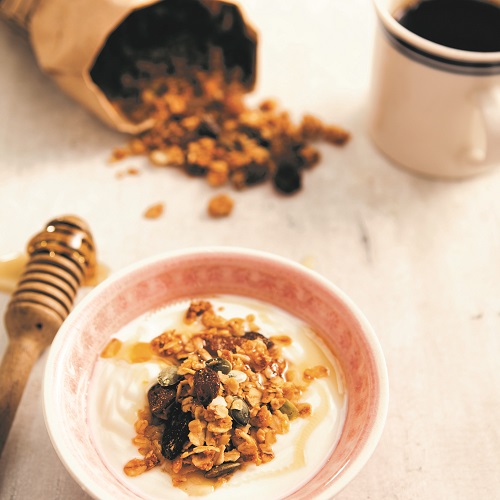 Granola is great for brunch and there is nothing as nice as a bowl of homemade granola in the centre of the table with some fresh fruit, natural yogurt and some local honey for a relaxed Sunday get together. Do check that your coeliac is happy to eat pure oats before serving.
Ingredients:
500g (18oz) pure oats
25g (1oz) pumpkin seeds
25g (1oz) sunflower seeds
25g (1oz) linseed
75g (3oz) brown sugar
135ml (4½ floz) sunflower oil
3 tablespoons honey
50g (2oz) dried dates, chopped and stoned
50g (2oz) dried figs, chopped
25g (1oz) flaked almonds
125g (5oz) sultanas
Method:
1. Preheat the oven to Gas Mark 3/165°C/325°F.
2. In a medium bowl, mix the oats with the three seed types and the brown sugar.
3. In a small bowl, whisk the sunflower oil with the honey until blended.
4. Pour the oil and honey over the oats and seeds, stirring well to coat everything.
5. Spread on two baking trays or a large roasting dish and place in the centre of the preheated oven.
6. Bake for 30–40 minutes until golden brown. Stir every 10 minutes to ensure that the granola browns evenly.
7. Once baked, allow to cool.
8. Mix the dates, figs, flaked almonds and sultanas together.
9. Mix this into the cooled granola and pour into an airtight jar to store.