Fruity Trifle with Créme Pâtissière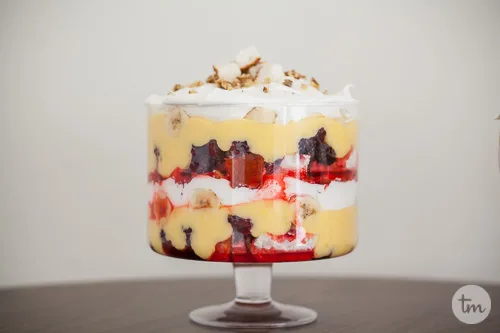 Everybody loves trifle. It's a special occasion dish that requires a bit of patience as each layer sets in the fridge, but it's always worth it!
What a wonderful weekend to give it a go, with Summer coming upon us and lockdowns coming to an end! If you don't fancy having to make your own sponge base, then try using our Delicious trifle sponge. Have a wonderful Bank Holiday weekend!
Sponge base
75g (3oz)100g (4oz) Denise's Delicious flour blend
1 teaspoon GF baking powder
½ teaspoon xanthan gum
50g (2oz) butter/margarine, at room temperature
2 large eggs
100g (4oz) caster sugar, plus a little extra
1 teaspoon vanilla extract
Or one pack of Delicious gluten free trifle sponge
Assemble
2–3 tablespoons raspberry jam
180ml (5floz) rich Madeira
2 packets raspberry jelly
150g mixed berries*
Crème pâtissière
6 medium egg yolks
115g (4½oz) caster sugar
40g (1½oz) corn flour
510ml (17floz) milk
1 vanilla pod, split
Icing sugar, to dust
To finish
270ml (9floz) double cream
50g (2oz) flaked almonds, lightly toasted
Sponge Base
You can prepare the sponge the day before serving if it is convenient. Preheat the oven to Gas Mark 5/190°C/375°F. Grease a 25cm x 30cm/10in x12in Swiss roll tin and line it with baking parchment.
Sieve the flour, gum and baking powder together.
In a separate bowl, place the butter/margarine, eggs, caster sugar and vanilla extract and, using an electric mixture, mix for about a minute to a smooth creamy consistency. Then add the flour and combine fully, using the mixer on a low setting.
Spread the mixture evenly in the prepared tin. Don't worry if it looks a bit sparse because it will increase in size.
Bake in the centre of the oven for 14–20 minutes or until it is golden brown and a skewer comes out dry.210 210
To assemble
When the sponge is cool, cover with raspberry jam and cut into fingers. Next, arrange the pieces in the base of a large trifle/dessert bowl or four large wine glasses and drizzle the Madeira/Sherry all over them as evenly as possible.
Make a packet of raspberry jelly and when cooled but not set, pour over the sponge. Put in fridge overnight to set.
The following day, make another packet of raspberry jelly and set aside to cool. Sprinkle the mixed berries them over the set jelly in the trifle bowl and then pour on the cooled jelly. The fruit will float to the top! Return to the fridge to set.
Crème pâtissière
Place the egg yolks and about one-third of the sugar in a bowl and whisk until pale and forming a light ribbon when the whisk is lifted out of mixture.
Sieve the corn flour and mix well into the egg mixture.
Combine the milk, the remaining sugar and the split vanilla pod in a saucepan and bring to the boil. As soon as the mixture bubbles, pour about one-third onto the egg mixture, whisking vigorously all the time.
Remove the vanilla pod, then scrape out the vanilla seeds and add the seeds to the egg mixture.
Pour the mixture back into the pan with the rest of the milk and cook over a gentle heat, whisking continuously. Boil for 2 minutes, then pour the custard into a bowl. Sprinkle with icing sugar and cover with a circle of greaseproof paper, to stop a skin forming, and leave to cool.
When the jelly has set, pour the crème pâtissière over it and place in the fridge again.
To finish
Whip the double cream with an electric hand-held whisk until it is firm but still soft. Spread the cream over the top and scatter with flaked almonds that have been lightly toasted under the grill.
Cover with cling film and store in the fridge until ready to serve.
*Frozen mixed berries work perfectly too but do thaw them out before using.
Denise's Delicious flour blend
Makes approximately 850g (2lb) flour blend
250g (10oz) rice flour
25g (1oz) tapioca flour
275g (11oz) potato flour
275g (11oz) corn flour
13g (½oz) teff flour
1 teaspoon gluten-free (GF) baking powder
1 teaspoon guar gum
Sieve all the ingredients into a bowl and mix well.