Fresh cherry clafoutis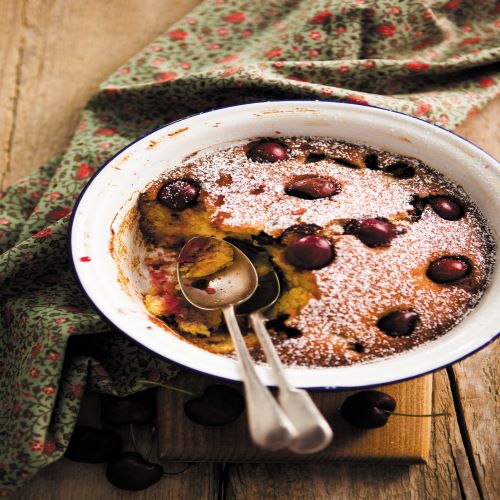 This is a classic French recipe and is wonderful when fresh cherries are in season. Do be careful of your hands as cherries will stain badly. It is not a look that you need with your newly applied manicure! This recipe works well with rhubarb or poached apple when cherries are out of season.
Ingredients:
3 large eggs
125g (5oz) caster sugar
50g (2oz) corn flour
50g (2oz) rice flour
½ teaspoon of GF baking powder
210ml (7floz) crème fraîche
450g (1lb) cherries
Butter/margarine and sugar to line dish
Icing sugar to dust
Method:
1. Preheat the oven to Gas Mark 5/190°C/375°F.
2. Grease a 20cm/8in pie dish and sprinkle with sugar. Lightly whisk the eggs with the sugar by hand for approximately 1 minute until mousse-like.
3. Sieve the flours and baking powder together. Add this to the egg mixture and whisk, then stir in the crème fraîche.
4. Prepare the cherries by washing, removing stalks and coring them to remove the stones.
5. Put the fruit in the prepared dish and pour over the batter.
6. Cook in the preheated oven for 45 minutes, until golden brown and a skewer comes out dry.
7. Dust with icing sugar and serve.