Fig & Honey Tart
15 July 2022 | Admin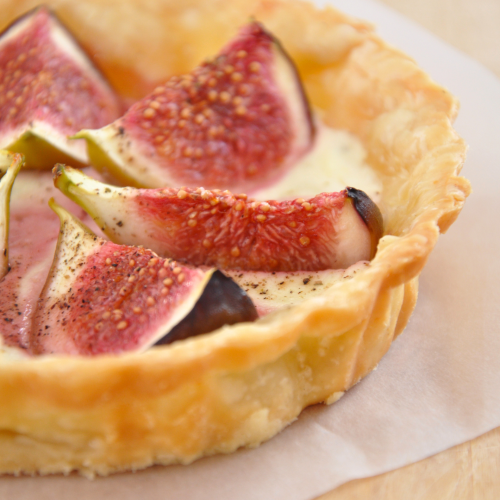 Do try to use a local honey. You'll be supporting local cottage industries but it's also great for hay fever to eat local honey. We are very spoilt having Dad as our in-house beekeeper!
Ingredients:
1 quantity sweet pastry (available here)
6 fresh green figs
50g (2oz) caster sugar
600 ml (20floz) water
450g (1lb) mascarpone cheese
4 medium egg yolks
½ teaspoon vanilla extract
2 tablespoons honey, plus 1 teaspoon for drizzling
50g (2oz) icing sugar
Method:
1. Make the pastry according to the instructions. While it is chilling, preheat the oven to Gas Mark 6/200°C/400°F. Grease a 20cm/8in pie plate very well, making sure all sides are well greased.
2. Roll out the pastry on a board, floured with a little potato flour.
3. Lifting the rolled out pastry on a rolling pin, line the pie plate with it, tucking in gently and trimming any excess with a sharp knife.
4. Bake blind for about 15 minutes until the pastry is golden brown. There is no need to use baking beans when baking gluten-free pastry. Remove the pastry case from the oven and turn it down to Gas Mark 5/190°C/375°F.
5. Put the figs, half the caster sugar and the water in a pan and bring to the boil. Poach gently for 10 minutes, drain and cool.
6. Stir together the mascarpone cheese, egg yolks and vanilla extract in a bowl, add the remaining caster sugar and the honey and mix well. Sieve in the icing sugar and mix again. Spoon into the tart case and bake for 30 minutes.
7. To serve, cut the figs in half lengthways and arrange on the tart, cut-side up. Drizzle with the extra honey and serve at once.