Crunchy Flapjacks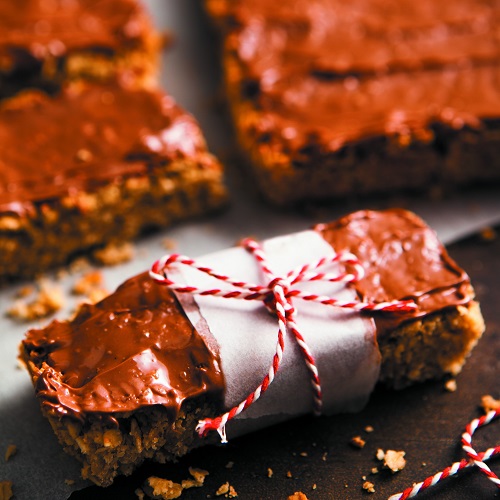 This is a scrumptious snack for between meals. Do check that your coeliac is happy to eat pure oats before serving.
Makes 12
Ingredients:
175g (7oz) butter/margarine
100g (4oz) brown sugar
75g (3oz) golden syrup
350g (14oz) pure oats
1⁄4 teaspoon ginger
1⁄2 teaspoon cinnamon
200g (8oz) dark chocolate
Method:
1. Preheat the oven to Gas Mark 2/150°C/300°F. Grease and line a 23cm x 33cm/9in x 13in Swiss roll tin with baking parchment.
2. Melt the butter/margarine in a saucepan with the sugar and golden syrup. Heat gently until the sugar is dissolved.
3. Stir in the oats and spices.
4. Place the mixture into the prepared Swiss roll tin and press it out evenly using the back of a spoon.
5. Bake in the preheated oven for approximately 30 minutes or until golden brown.
6. Break the chocolate into a bowl over a saucepan of water on a medium heat and melt, stirring occasionally.
7. While the chocolate is still hot, pour over the flapjacks. Chill in the fridge until the chocolate has set.
8. Use a hot knife to cut into twelve squares without breaking the chocolate.