Chocolate-drizzled Coconut Biscuits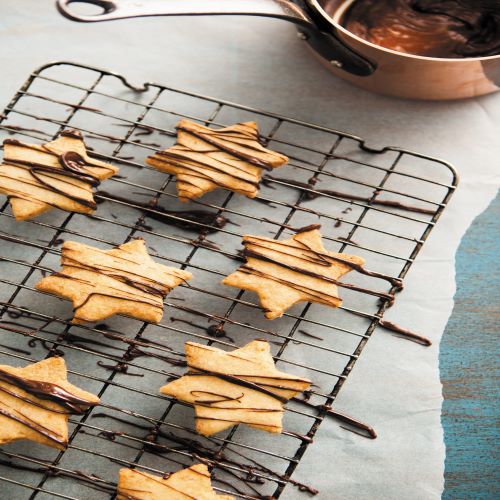 This is an all-in-one recipe, so a great one when you are caught for time.
Makes approximately 18
Ingredients:
25g (1oz) rice flour
50g (2oz) potato flour
75g (3oz) corn flour
½ teaspoon xanthan gum
½ teaspoon GF baking powder
150g (6oz) butter/margarine, softened
100g (4oz) caster sugar
50g (2oz) desiccated coconut
Melted chocolate to decorate
Method:
1. Preheat the oven to Gas Mark 5/190°C/375°F and line two baking sheets with baking parchment.
2. Blend the flours, then add the gum and baking powder and mix well.
3. Using an electric mixer add the butter/margarine, sugar and coconut and beat until they combine to form a dough.
4. Knead the dough briefly then break off even-sized balls, about the size of marbles. Roll them (if mixture is sticky dip hands into potato flour before rolling) to a smooth shape in the palms of your hands. Place on the baking sheets and make sure to place them well spaced apart. Alternatively you can use a cookie cutter to make whatever shapes you fancy, as in the photo.
5. Bake in batches in the oven for 10–12 minutes or until flecked golden. Leave the biscuits to cool and harden slightly on the baking sheets for about 1 minute, then transfer to a wire rack and leave to cool completely. When cool, drizzle with the melted chocolate.
6. Make sure to store in an airtight container to keep the biscuits fresh, that is if they last that long!