Chocolate Chip & Pecan Cookies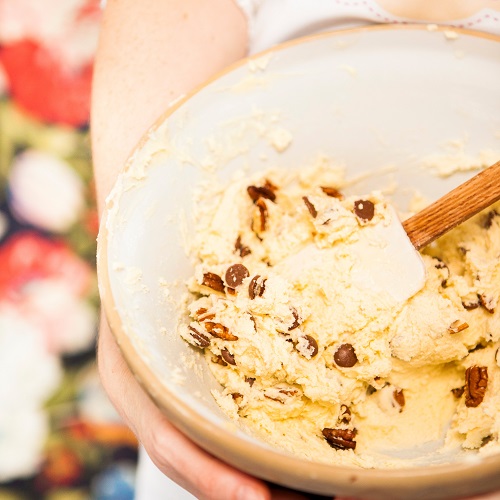 This is a great base cookie recipe and the condensed milk helps to make a lovely, gooey, chewy cookie. You can substitute the chocolate and nuts with fruit of your choice.
Makes 18–20
Ingredients:
150g (6oz) butter/margarine
75g (3oz) caster sugar
225g (9oz) Denise's Delicious flour blend
2 teaspoons GF baking powder
¼ teaspoon guar gum
90ml (3floz) condensed milk
75g (3oz) milk chocolate chips
40g (1½oz) unsalted, chopped pecan nuts
Method:
1. Preheat the oven to Gas Mark 5/190°C/375°F. Grease a baking tray lightly and cover with baking parchment.
2. Cream the butter/margarine and sugar in a medium bowl using an electric mixer.
3. Sieve the flour, baking powder and guar gum in another bowl and set aside.
4. Add the condensed milk to the butter mixture and mix well.
5. Gradually add the dry ingredients to the butter mixture and combine.
6. Stir in the chocolate chips and the nuts.
7. Using an ice cream scoop, spoon the mix out onto the baking tray, leaving plenty of space between the cookies to allow them to spread.
8. Bake for 10–15 minutes until golden brown.
9. Remove from the oven and allow to cool on the tray for 5 minutes before removing to a wire cooling tray.
10. Store in an airtight container.