Buttermilk Pancakes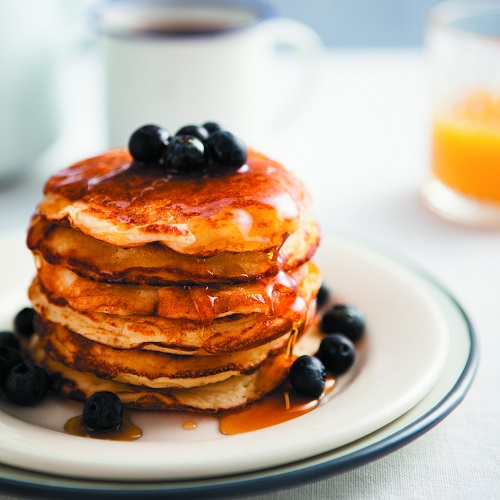 These are wonderful pancakes for weekend mornings. It is worth investing in a heavy griddle pan for the best result. The batter can be made the night before and stored in the fridge and used the following morning.
Makes 3–4 pancakes
Ingredients:
150g (6oz) Denise's Delicious flour blend (p. 28)
1 tablespoon GF baking powder
1 teaspoon salt
3 tablespoons caster sugar
2 large eggs
390ml (13floz) buttermilk
1 teaspoon vanilla extract
Butter/margarine to grease pan
To serve:
175g (7oz) blueberries
Maple syrup
Method:
1. Preheat the griddle pan (or heavy-based frying pan).
2. Sieve the flour, baking powder and salt into a medium bowl and stir in the sugar.
3. In a separate bowl, beat the eggs with a whisk and add the buttermilk and vanilla extract and whisk until fully combined.
4. Make a well in the centre of the dry ingredients and pour in the egg mixture. Using a whisk, beat well.
5. Melt butter/margarine in the preheated pan and pour some batter into the centre of the pan. Tilt the pan to spread the batter until the pancake is approximately 10–12cm in diameter.
6. When the batter has set, flip the pancake using a palette knife or fish slice, and brown on the other side. Repeat until all the pancakes are cooked.
7. Serve warm with fresh blueberries and maple syrup.