Butterfly Buns
21 September 2021 | Admin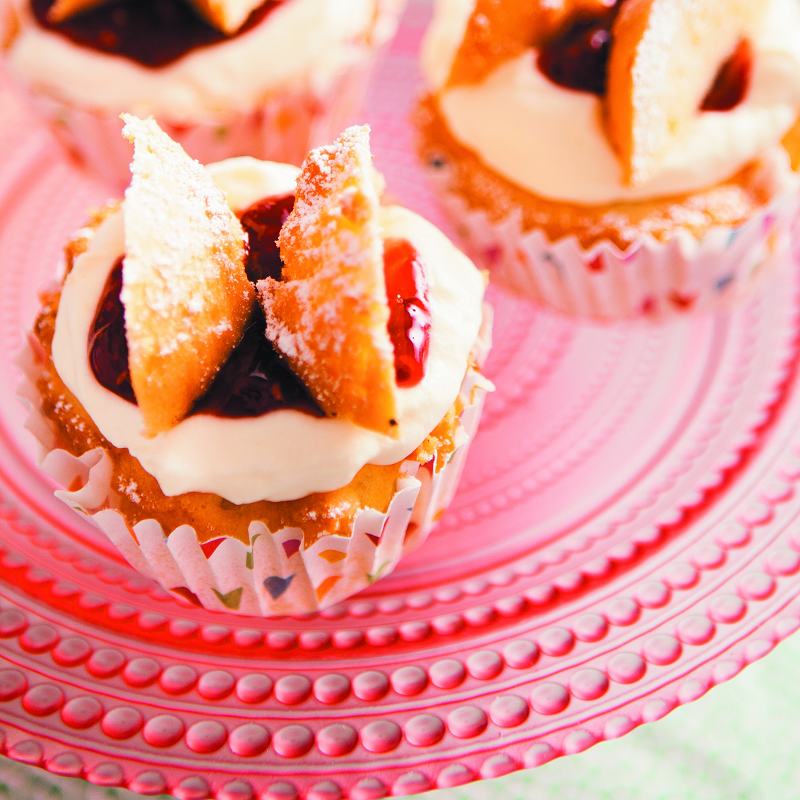 I have loved butterfly buns since I was a little girl; I can still scoff several in one sitting! I like to attack a wing at a time with a blob of cream and jam and then the bun itself. That way I have some hope of ending up without icing sugar and cream in my hair!
Makes 12
Ingredients:
150g (6oz) Denise's Delicious flour blend (p. 28)
Pinch of salt
1 teaspoon guar gum
1 teaspoon GF baking powder
100g (4oz) butter/margarine, at room temperature
90g (3½oz) caster sugar
2 medium eggs
To decorate:
240ml (8floz) whipping cream
Raspberry jam
Icing sugar to dust
Method:
1. Heat the oven to Gas Mark 5/190°C/375°F. Line a twelve-hole queen cake tin with paper cases.
2. In a medium bowl, sieve together the flour, salt, gum and baking powder.
3. In a mixing bowl, cream the butter/margarine and sugar together with an electric mixer until light and fluffy.
4. Lightly beat the eggs in another bowl then add into the butter/margarine mixture gradually whilst beating on the lowest speed.
5. Mix in the dry ingredients, again on the lowest setting. Mix until the flour is combined but do not overbeat.
6. Divide the mixture evenly between the paper cases and bake in a preheated oven for 15–20 minutes until golden brown and a skewer comes out dry.
7. Cool on a wire rack.
To decorate:
1. Whip the cream until it stays on the whisk. If it is too loose, it will run off the cakes, but if it is too tight it doesn't look well, although it won't affect the taste.
2. When the cakes are cold, cut a slice off the top of each and cut these slices in half. 3. Using a teaspoon, put a generous blob of whipped cream on top of the cake. Then place a small amount of jam in the centre of the cream.
4. Place the two halves of each round upright, cut side down, in the cream to resemble wings.
5. Dust lightly with icing sugar.