Easter cupcakes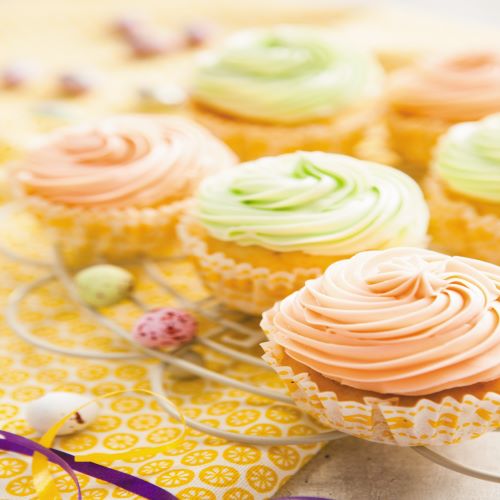 Whilst any madeira mixture works for cupcakes, this recipe is great because the cakes bake with a flat top, which makes it easier for you to get creative with your piping skills.
Ingredients:
75g (3oz) tapioca flour
15g (½oz) teff flour
115g (4½oz) corn flour
125g (5oz) potato flour
¼ teaspoon salt
4 teaspoons GF baking powder
¾ teaspoon guar gum
200g (8oz) butter/margarine, at room temperature
300g (12oz) caster sugar
3 large eggs
1½ teaspoons vanilla extract
390ml (13floz) warm milk
To decorate:
150g (6oz) butter/margarine at room temperature
300g (12oz) icing sugar, sieved
½ teaspoon vanilla extract
Red and green natural food colouring
12 fluffy Easter chicks or mini chocolate eggs (make sure they are gluten free please!)
Method:
1. Preheat the oven to Gas Mark 5/190°C/375°F. Line a twelve-hole queen cake tin with paper cases.
2. Sieve together the flours, salt, baking powder and gum and set aside.
3. Cream the butter/margarine and sugar until light and fluffy with a hand-held electric mixer.
4. In a small bowl, beat the eggs lightly with the vanilla and add to the butter mixture gradually, beating between each addition.
5. Add the flour mixture three tablespoons at a time and fold in between additions.
6. Add the milk to the bowl, mixing thoroughly.
7. Divide the mixture evenly between the paper cases.
8. Bake in the centre of the preheated oven until golden brown and an inserted skewer comes out dry. Remove from the oven and cool on a wire rack.
To decorate:
1. Cut the butter/margarine into small cubes and place in medium bowl with the icing sugar. Mix with an electric hand-held mixer until fully blended. Add the vanilla extract and beat again.
2. Divide the mixture between two bowls, adding 2–3 drops of red food colouring to the first bowl and green colouring to the second bowl. Stir them well, until you achieve a pale pink and pale green colour.
3. Fill a piping bag with pale pink buttercream and pipe onto half of the cupcakes using a wide star nozzle.
4. Use a circular motion to build the buttercream into a spiral.
5. With a second piping bag and the same size nozzle, repeat this step with the green icing on the remainder of the cakes.
6. Finish off the cakes with Easter decorations such as fluffy yellow chicks or gluten-free mini chocolate eggs.