Banana Muffins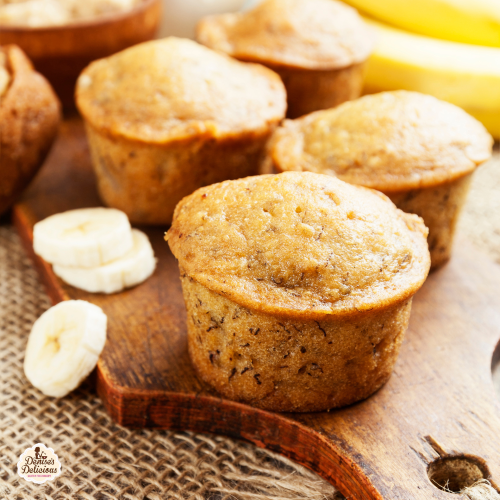 T​his recipe is a great way to disguise fruit and ensures that the kids eat bananas without realising it. Also you can now buy really cute muffin cases that also persuade the smallies that muffins are worth a try!
Ingredients:
150g (6oz) sugar
¼ teaspoon salt
1 teaspoon GF baking powder
15g (½oz) teff flour
50g (2oz) potato flour
50g (2oz) tapioca flour
65g (2½oz) corn flour
½ teaspoon guar gum
1 teaspoon cinnamon
2 large eggs
1 teaspoon vanilla extract
75g (3oz) butter/margarine, melted and cooled
3–4 ripe bananas, mashed
Method:
1. Preheat the oven to Gas Mark 5/190°C/375°F. Line a twelve-hole muffin tin with muffin cases.
2. Combine the sugar, salt, baking powder, flours, gum and cinnamon in a bowl and mix well.
3. In a measuring jug, beat together the eggs, vanilla extract and cooled, melted butter/margarine.
4. Pour the wet ingredients into the dry and, using a wooden spoon, mix gently to combine. Do not beat the mixture.
5. Fold in the mashed bananas, stirring gently.
6. Spoon into the muffin cases and bake for 20 minutes, by which time the muffins should be risen and golden and firm on top. If a skewer is inserted into the centre, it should come out dry.
7. Remove from the oven and remove from the baking tin after 2–3 minutes. Allow to cool on a wire rack. When completely cool, store in an airtight container