After Dinner Florentines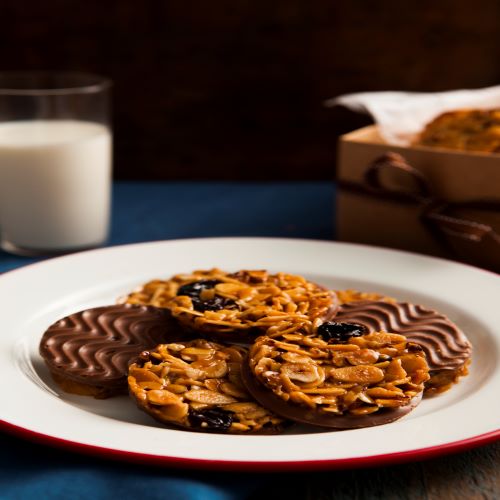 Florentines are the best way to finish off a heavy meal, with a very strong coffee. Although I do cheat sometimes, and have them as a morning snack with a glass of milk. Don't let the reshaping step put you off. These taste so good, that misshapen Florentines will be forgiven!
Makes 10–12
Ingredients:
75g (3oz) butter/margarine
100g (4oz) caster sugar
100g (4oz) ground almonds
50g (2oz) natural glacé cherries, finely chopped
Finely grated zest of 1 orange
1 tablespoon double cream
100g (4oz) plain chocolate, broken into pieces
Method:
1. Line a baking tray with baking parchment. Preheat the oven to Gas Mark 2/150°C/300°F.
2. Put the butter/margarine and sugar in a saucepan and heat gently, stirring until completely dissolved. Remove from the heat and stir in all the remaining ingredients, except the cream and chocolate. Leave to cool slightly, then stir in the cream.
3. Place the mixture on the lined baking sheet, a dessertspoon at at time, allowing room for spreading. Bake for 10 minutes.
4. Take the tray out of the oven. At this stage the biscuits will have spread unevenly and the mixture is pliable. It is akin to molten lava, so take care of your fingers! Using a knife or biscuit cutter, pull the biscuits roughly back into a circular shape.
5. Return the baking sheet to the oven for 2–3 minutes to finish baking, then remove again.
6. Leave the Florentines on the baking sheet for 2–3 minutes before attempting to remove them. To remove, slide a palette knife underneath each biscuit (they will be starting to harden by now) and transfer them to a wire rack.
7. When the biscuits are cold and crisp, turn them face down. Put the chocolate in a heatproof bowl set over a pan of simmering water and stir until the chocolate has melted.
8. Coat the backs of the Florentines with the melted chocolate and score with a fork or press with a rippled stamp (as I have done in our photo) to finish off.
9. Leave to set for about 30 minutes.
10. When completely cold, store in an airtight container, interleaving them with greaseproof paper so that they do not stick together.