Triple chocolate-chip cookies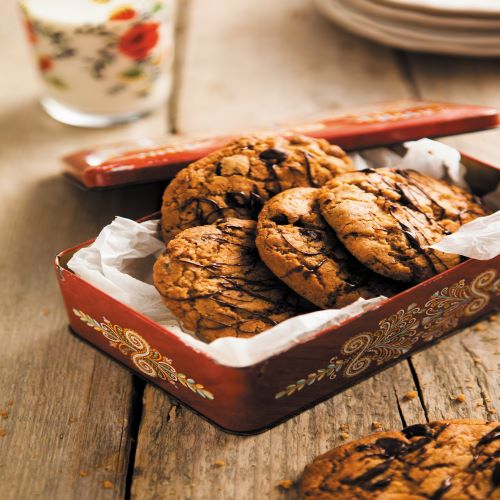 This is an absolute classic recipe and should be in every baker's repertoire.
Ingredients:
100g (4oz) soft brown sugar
100g (4oz) caster sugar
100g (4oz) butter/margarine, softened
1 large egg
1 teaspoon vanilla extract
50g (2oz) tapioca flour
75g (3oz) potato flour
75g (3oz) corn flour
½ teaspoon GF baking powder
½ teaspoon guar gum
125g (5oz) milk chocolate, melted
75g (3oz) white chocolate, chips or chopped into chunks
75g (3oz) plain chocolate, chips or chopped into chunks
Method:
1. Heat the oven to Gas Mark 5/190°C/375°F. Line 1–2 baking trays with baking parchment.
2. Mix the sugars together in a medium bowl, then cream with the butter/margarine.
3. Beat the egg in a separate bowl and add the vanilla extract. Add the egg to the butter mixture gradually, stirring between additions.
4. In another bowl, sieve the flours, baking powder and gum.
5. Add the flour to the egg mixture and fold in.
6. Stir in half the melted chocolate and add the chocolate chips/chunks and mix together.
7. Then use an ice-cream scoop or round tablespoon measure to scoop out balls of cookie dough and drop them straight onto the prepared trays.
8. Bake (in batches if necessary) for 8–9 minutes until pale golden and still soft to the touch, but the edges should be browned. They will firm up as they cool.
9. Carefully transfer to a wire rack as soon as they can be lifted up, then drizzle with the remaining melted chocolate and set aside to cool.
10. Store in an airtight container