Orange & Almond Cake
20 May 2022 | Admin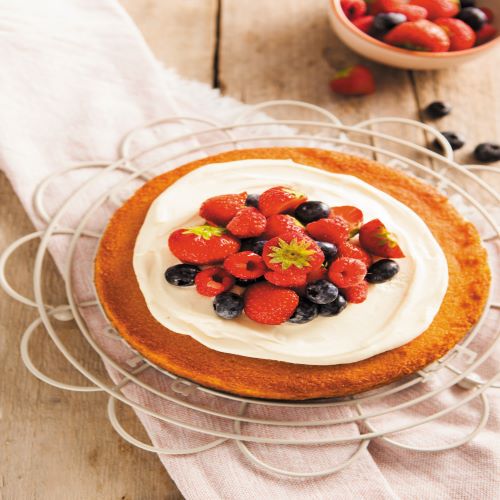 This recipe bakes one 23cm/9in cake. However, there is plenty of mixture mix to make two 13cm/5in cakes so you can make one to eat and pop the other in the freezer.
Ingredients:
200g (8oz) butter/margarine, at room temperature
175g (7oz) caster sugar
3 medium eggs, lightly beaten
200g (8oz) ground almonds
Juice of 1 orange
100g (4oz) polenta
1 teaspoon GF baking powder
Pinch of salt
To serve:
Whipped cream
Summer fruits (raspberries, strawberries, blueberries, etc.)
Method:
1. Preheat the oven to Gas Mark 3/160°C/325°F. Brush a 23cm/9in round cake tin with a little melted butter/ margarine and flour the tin with potato flour. Cut out a round of baking parchment the size of the base of the tin and line the base with it.
2. In a large mixing bowl beat the butter/margarine until pale and fluffy.
3. Add the sugar and beat again until light and creamy. Add the eggs, a little at a time, beating well between additions. Fold in the ground almonds, orange juice, polenta, baking powder and salt.
4. Pour the mixture into the prepared tin and bake in the centre of the oven for about 50–60 minutes if cooking the large cake or 40 minutes if cooking two smaller ones, until the top of the cake is a deep golden colour and a skewer inserted into the centre comes out clean.
5. When removed from the oven, leave to cool in the tin for 10 minutes before turning out onto a wire rack and removing the baking parchment.
6. Decorate by generously covering the top of the cake with whipped cream and piling fresh berries in the centre.