Weekend Brunch Pancakes
Friday, 20 November 2020 | Admin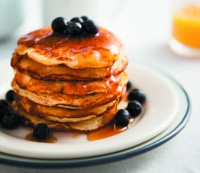 My idea of an ideal brunch is to have a pile of buttermilk pancakes; all to myself!

I load the plate with fresh berries however, my version of a 'drizzle' of maple syrup or honey (depending on my mood) is so heavy-handed that I fear for my calorie intake for that meal. Perhaps it's just as well that I don't have the time to make these pancakes as regularly as I'd like!
Derek and I have recently discovered the chef Simon Hopkinson on BBC Good Food. I think Derek likes him because they both cook like Frenchmen; lashings of butter & salt in everything. Simon made the most divine pancakes recently, filled with crème pâtissière and with a rum sauce. Not quite for breakfast but a brilliant way to finish a dinner party. I'm looking forward to trying the recipe in a gluten free version on my Delicious Derek at some stage soon.

In the meantime, let's be a little bit healthy and start the day with these nice, quick to make pancakes. And, oh, by the way – easy on the maple syrup!!
If you don't feel like blending the flour yourself, pop on to delicious.ie and pick up some for yourself!

Ingredients
150g (6oz) Denise's Delicious flour blend
1 tablespoon GF baking powder
1 teaspoon salt
3 tablespoons caster sugar
2 large eggs
390ml (13floz) buttermilk
1 teaspoon vanilla extract
Butter/margarine to grease pan
To serve:
175g (7oz) blueberries
Maple syrup

Method
1. Preheat the griddle pan (or heavy-based frying pan).
2. Sieve the flour, baking powder and salt into a medium bowl and stir in the sugar.
3. In a separate bowl, beat the eggs with a whisk and add the buttermilk and vanilla extract and whisk until fully combined.
4. Make a well in the centre of the dry ingredients and pour in the egg mixture. Using a whisk, beat well.
5. Melt butter/margarine in preheated pan and pour some batter into the centre of pan. Tilt the pan to spread the batter until pancake is approximately 10–12cm/4–4½in in diameter.
6. When batter has set, flip pancake using a palette knife or fish slice, and brown on the other sides. Repeat until all the pancakes are cooked.
7. Serve warm with fresh blueberries and maple syrup.