Banana & Oat Biscuits
Tuesday, 23 March 2021 | Admin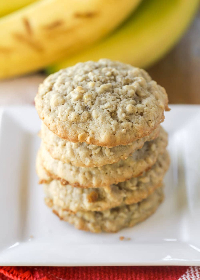 My Banana and Oat Biscuits are a super easy and healthy bake!
Ingredients
Makes 10–12
75g (3oz) butter/margarine, softened
75g (3oz) caster sugar
1 small egg, beaten lightly
40g (1½oz) corn flour
40g (1½oz) potato flour
¼ teaspoon xanthan gum
¼ teaspoon bread soda
½ teaspoon salt
¼ teaspoon freshly grated nutmeg
¼ teaspoon ground cinnamon
1 banana, mashed
125g (5oz) pure oats

Method
Line two baking trays with baking parchment, and preheat the oven to Gas Mark 5/190°C/375°F.
Put the butter/margarine and sugar in a large bowl and cream them together until light and fluffy with a hand-held electric mixer, then beat the egg into the mixture.
Sieve in the flours, gum, bread soda, salt and spices and mix on the lowest speed on your electric mixer.
Fold in the mashed banana, oats and hazelnuts, and mix well.
Drop heaped teaspoons of the mixture onto the prepared baking sheets, allowing about 5cm/2ins of space between each biscuit as the mixture will spread.
Bake in the oven for about 15 minutes, then transfer quickly to a wire rack and leave to cool. Once the biscuits are cool, pop into an airtight container to store.